2023 Election Forum – Vaucluse & Coogee
Location:In personVenue:Location to be provided upon registrationDate:Wednesday, 8 March 2023Time:6:30pm for a 7:00pm start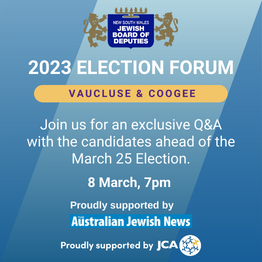 Tickets:
Join the NSW Jewish Board of Deputies for the 2023 Vaucluse & Coogee State Election Forum.
This event forms part of the Jewish Board of Deputies' series of state election forums aimed at informing you about the issues that matter to you.
Candidates for Vaucluse: Kellie Sloane (Liberal), Margaret Merten (Labor) and Karen Freyer (Independent) and for Coogee: Dr Marjorie O'Neill MP (Labor) and Dr Kylie von Muenster (Liberal) will address issues of concern to the community, their election pledges, and take part in a Q&A with the audience.
Registration is essential.
Wednesday, March 8 at 6.30pm for a 7pm start.
Address to be provided upon registration.
Proudly supported by The Australian Jewish News